Saturday, April 1, 2017
Nemesis Springs Into Action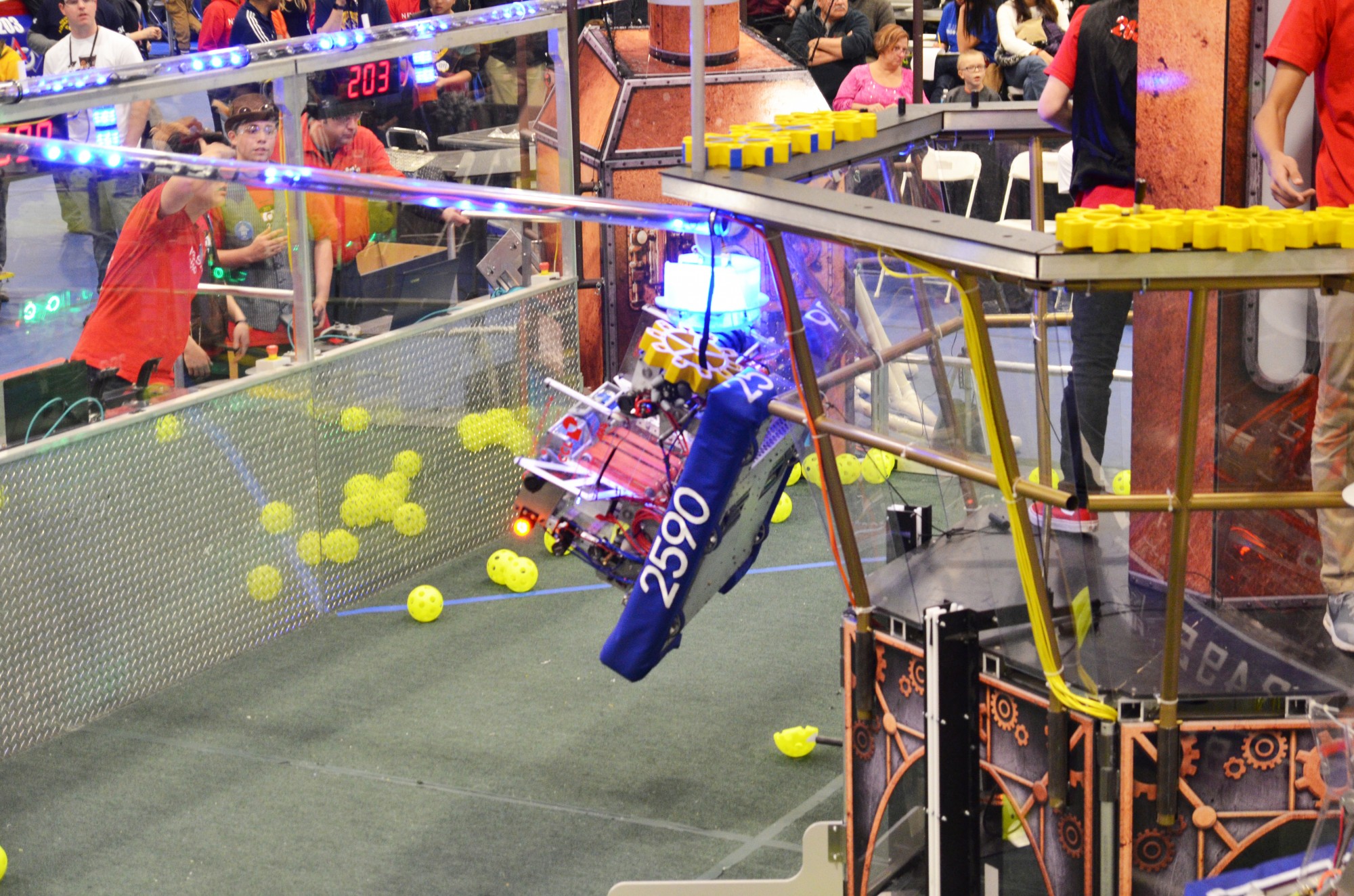 A streak of color burst across the field in a desperate attempt to reach the dangling rope and scale it before the buzzer rang. Seven seconds. The robot couldn't grip the rope, and the drivers furiously reversed and rushed forward again. Four seconds. Suddenly the rope was snatched into the robot. It jerked sharply upwards and began the ascent. Would it make it? Three seconds...two… The light above the robot blazed red and the crowd erupted in cheers as the buzzer rang.
After learning from their mistakes two weeks prior at the Hatboro-Horsham District Event, Nemesis was back and better than ever. Boasting a newly designed intake, which now featured a ground pick up for gears, the team was determined to rise beyond their last competition.
After an early Saturday morning start, Nemesis joined 31 other local MAR (Mid Atlantic Robotics) teams at the Springside-Chestnut Hill Academy for their second district competition, hosted by FRC 1218, Vulcan. The team was excited to be joined by so many of their friends and alumni, some of which even volunteered their time as robot inspectors, queueing personnel and judges. Nemesis is truly a family, always there supporting each other.
A promising performance in the practice matches resulted in high anticipation among Nemesis members. By midday, spirits were high and the team wasn't far out of the top 8. A resilient team often regarded for their ability to overcome setbacks in gameplay, Nemesis' team members were still hopeful.
Meanwhile in the pits, both marketing and build members conversed with entrepreneurship and technical judges to compete for awards honoring their world-class business team and first-rate engineering skills. "It was an interesting experience to be able to share our story with these judges and I look forward to doing it again!" remarked first time marketing member Rachel Gillmer.
Back on the field, an aura of suspense filled the air. After 64 tense qualification matches, it was time for alliance selection. Nemesis finished qualifications 6-6-0 in 15th place. Within minutes, Nemesis was chosen by the first ranked seed, FRC 225 TechFire. Not long after, the pair was joined by FRC 423 Simple Machines. With Nemesis' proficient gear-scoring strategy, Tech Fire's inconceivably accurate shooter, and Simple Machine's rope-scaling consistency, the top alliance was ready to take on their first competitors. The six robots lined up against their driver station walls. 3...2...1...GO! The eliminations were underway!
The announcer's voice was drowned out by the deafening cheers of the crowd. Gear after gear, ball after ball, both alliances fought valiantly. TechFire's shooter brought shouts of delight from the fans, and remarkable communication between pilots and drivers illustrated the beautiful chemistry during the match.
Unfortunately, every competition isn't without its misfortunes. As a result of a series of hapless moments, the top alliance was not able to start the third rotor on the airship, nor get all three red robots ready for takeoff. Similar performance in the second quarterfinal match made it official: Nemesis would not be moving on to the semifinals.
Although disappointed, Nemesis did not leave empty-handed. The team won the Industrial Design award, a celebration of form and function in an efficiently designed robot that also effectively addresses the game challenge. Team Advisor Peter Wolfe was honored with the Donald Bowers Inspiration Award in recognition of his demonstration of FIRST core values within the team and the community, and finally, juniors Nick Anderson (Director of Marketing) and Mariko McMurtry (Head of Electrical) were Dean's List Semi-finalists, a prestigious FIRST award that identifies exemplary individuals who effectively illustrate the ideals of FIRST, STEAM, and Gracious Professionalism.
At the end of the day, Nemesis knew that it wasn't over yet. Next stop: the Festival de Robotique in Montreal, Canada!
Nemesis would like to thank their sponsors: Robbinsville High School, NAVAIR, CCL Label, DoDStem, Knowledgement, Nordson, Leidos, the Robbinsville Educator Association, Lockheed Martin, Sharbell Development Corp., the New York Society of Cosmetic Chemists, Investors Bank, RAS, the Robbinsville Education Foundation, Triangle Copy, Skylink, Coldwell Banker, Northstar Vets, Princeton Sports and Family Medicine, Designtree, Siemens, SRI, McGraw Hill Financial, and the Friends and Family of Nemesis.