Wednesday, April 30, 2008
About Us | 2007-2008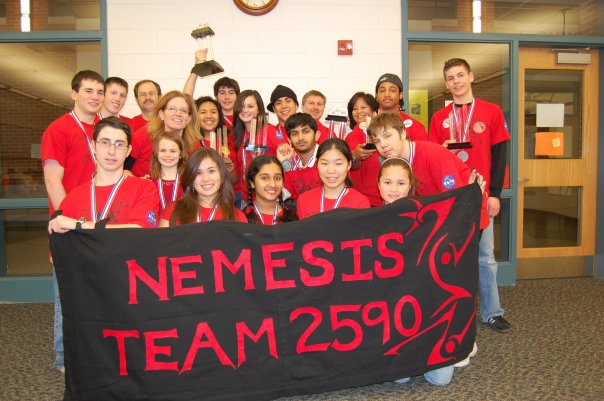 During the late spring of 2007, a group of determined rising seniors asked Mrs. Wolfe, the new Technology teacher at Robbinsville High School (RHS), to please start a FIRST Robotics Team. They either had relatives or friends on local teams and wanted to start an academic tradition at their three year young high school. Nemesis, FRC 2590 was created when the "stars" came into alignment during November 2008, Chris Gregory, the Hightstown FRC 1089 mentor, Paul Kloberg, Michael Reffler, Sara Reffler, NJ FIRST Senior Mentors, and Gene O'Brien of the NJ Society of Professional Engineers, came to RHS offering their support. 
It all fell in place when NASA awarded the team a $6,000 Rookie grant.  In December, we embarked into the unknown that filled us with terror and joy as we scrambled to earn money for robot parts and learn as much as possible, reading all available documentation and websites, picking the brain of the mentors, and attending workshops.  Team Mercury 1089 loaned us their old robot to study and use for fund raising efforts, in addition to giving workshops.  We went to the kick-off in January with high hopes and a bit of healthy fear about the build season ahead.
For the next six weeks, we spent every night and weekend in the Tech Lab at RHS bonding as a team and creating a team culture similar to a high tech start-up company.   Everyone eventually found their place.  It was serendipity that Michael Arak took one look at our box of receipts and proceeded to create detailed financial books and spreadsheets as our Chief Financial Officer and Operations Manager, keeping the team afloat.  Mark Panes, our Chief Executive Officer, with his infectious smile and positive attitude kept us on track and motivated.  Steven Rutsky and Rida Alvi came into their own as the Chief Technology Officer and Director of Research and Development.  Our mentors were amazing, everyone worked together to create the robot and the team.
Initially, the Build team didn't know how to build a chassis; all of the pieces in the Kit of Parts were just that….pieces. We were clueless but happy to have mentors that were just as enthusiastic but inexperienced with the FIRST program.  After the first week, the Cavalry arrived as Mr. Ed Petrillo, Mr. Chris Gregory, Mr. Michael Reffler, Ms. Sara Reffler, Mr. Matt Palmere and Mr. Ed Healey walked into the Tech Lab and started working with us, offering practical advice on the mechanics and software.  Marco's signature saying during the build season was "Do work, son" and we worked. 
There is a bond that grows from adversity.  We brainstormed, prototyped, bounced back from mistakes, and ran debriefing session, while implement the design cycle.  Working alongside professionals, the students learned about their various professions, absorbed their work methods, and honed the practical application of their skill sets.  It was a time of minimal sleep and total dedication.
The Marketing team documented the Nemesis story as they wrote the Chairman's Award, created the team PowerPoint, and marketing materials.  We practiced giving presentations, answering questions on the fly, and learning how to interact with all types of personalities.  Dressed in business attire, we gave presentations to the Board of Education, the local Businesses, and the Robbinsville Education Foundation asking for their support.  The community responded with great enthusiasm and monetary contributions.  On a wing and a prayer, we built our simple, reliable robot and went to the 2008 New Jersey Regional Competition.
To our amazement, Blaine Zaffos and Mark Panes drove our robot through 8 undefeated seeding rounds, placing us as the third highest team.  Rob Hyams and his team of scouts identified our alliance partners: MORT, Mount Olive High School and Aberdeen High School of Aberdeen, Maryland .   We made it to the Finals!  During the awards ceremony, Nemesis FRC 2590 won the prestigious "Rookie All Star," "Highest scoring Rookie," and the "Finalist" awards and invited to the National Championship at the Georgia Dome in Atlanta, GA.   We were thrilled; it was more than we ever expected.
The Robbinsville community rallied to our cause and the donations came pouring in as the story of our success was published in the newspaper.  We went to the Nationals and met teams from all over the world.  It was a once-in-a- lifetime experience. 
Our seniors graduated and are now attending top universities and colleges with majors in Engineering, Computer Science, and Business.  They received scholarships and made lasting friendships and left a legacy of excellence.