Tuesday, December 4, 2012
Discovery Day 2012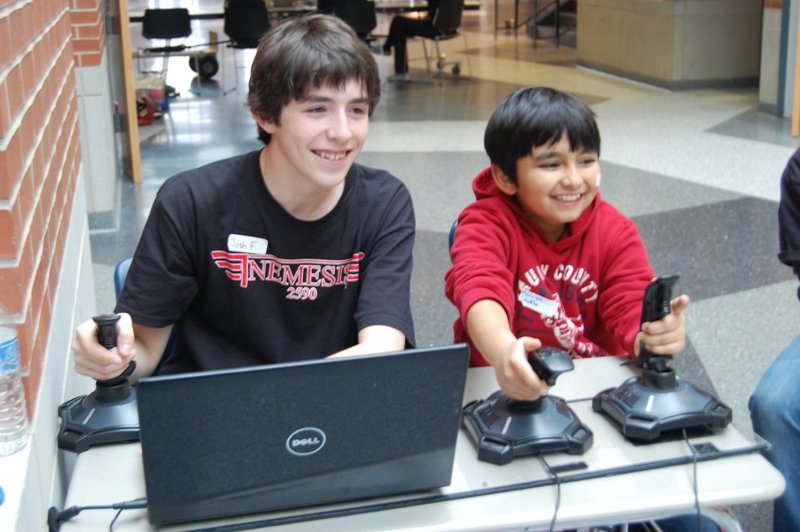 THE ROBBINSVILLE ADVANCE
On Saturday, December 8th and Sunday, December 9th, Robbinsville High School's FIRST Robotics Team 2590 hosted their annual Robotics Discovery Day. Over 80 kids between second and fifth grade came to the high school Technology Lab to learn about engineering and design from team members and mentors.
"Discovery Day allows these kids to imagine what they want and then hold it in their hands. No instruction, no restrictions, we allow them to craft their ideas into reality with help from experienced members. A child can visualize their dream car, and then drive it down the hallway in less than an hour. We're opening their minds to the world of engineering," says Mrs. Joy Wolfe, robotics team advisor and high school technology teacher.
Discovery Day is the team's largest fundraise, financing out of state competitions and many tools and parts the team needs to compete. This session celebrates the 4th year of the program, with a new and exciting challenge each year. In the past, students created robots that could swim underwater, fight each other in a sumo ring, follow a line using light sensors, and more. This year, less experienced or younger students created "drag racer" cars they could control with a remote and race for the best time.
The older students made catapults using LEGO Mindstorms building kits, competing to see who could launch a LEGO piece the farthest. Antonio's group met the most success, launching their LEGO piece over 4 feet! Not to be outdone, Uddhav's group worked hard to build their own powerful catapult. When it came time to launch, the mighty catapult launched a LEGO piece… 6 inches. Though not all the launches were met with the expected success, the kids had a great time building their very own creations.
Leader Boards were posted in the front of the classroom, updating rankings and allowing teams to compare times. Each group of 2 or 3 kids also drove the team's latest competition robot, "Prince", capable of picking up foam basketballs and shooting them into baskets.