Sunday, March 23, 2014
Finalists and Chairman's Winners at Lenape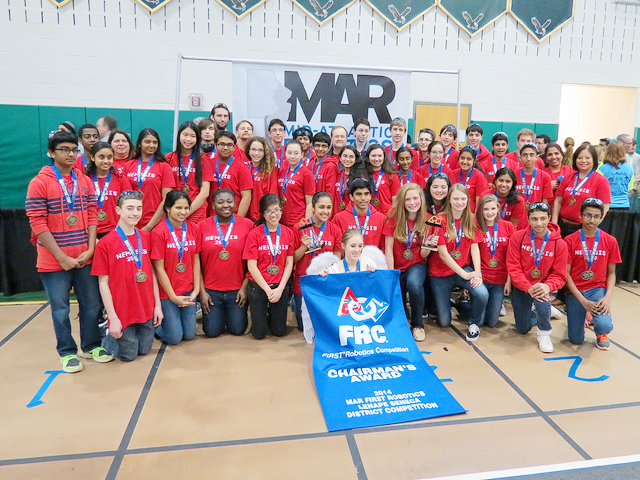 Champions of the Hatboro-Horsham District Event, Robbinsville High School's FIRST Robotics Team 2590 Nemesis came to the Lenape District Event on Saturday, March 22nd ready to follow up their tremendous success from two weeks prior.
Seneca High School came to life early Saturday morning as teams from New Jersey, Pennsylvania, and Delaware arrived with their robots, anticipating a weekend of fierce competition. The challenge? Aerial Assist, a game played 3 versus 3, the objective being to place a ball into the floor goal or to shoot for the high-scoring goal. An emphasis is placed on cooperation, with 10 points added to an alliance's score for each assist.
Bellerophon, Team Nemesis' 2014 robot, was designed by team members using CAD software, and then constructed using the student's specifications. Sporting a claw and a spring-powered linear punch shooter, Bellerophon was designed to swiftly grab balls and launch them into the high-scoring goal.
But the team didn't just build a sharp-shooting robot. According to Parth Mandrekar, a sophomore Build Team member, one of Bellerophon's biggest assets is "his ability to cooperate with other teams through passing and receiving passes effectively." And this versatility on the field clearly sets Bellerophon apart from other robots.
Indeed, Bellerophon proved a force to be reckoned with. Although the event had a less than auspicious start, what with two replays of Nemesis' first match, it wasn't long before the team picked up steam. Team Nemesis powered its way through the first day of Qualification Matches, sustaining only two losses in nine rounds.
Bellerophon wasn't the only one under pressure, however. Seniors Julia Borowski, Baljot Ranu and junior Arnav Vast spent Saturday morning with the judges, presenting Nemesis' 2014 Chairman's Award. In the world of FIRST Robotics, the Chairman's Award is the most prestigious honor that can be given to a team, recognizing them as the best model for other teams to emulate. Chairman's winners not only demonstrate exemplary community outreach and commitment to STEM, they best embody the purpose of FIRST. And this event saw Nemesis pitted against 19 other teams from across three states. After rehearsing until the presentation was just right, the team had only to wait for the concluding Awards Ceremony on Sunday.
Moving forward, day two of the competition saw even more success for Team Nemesis, who won all of their remaining Qualification Matches. Blazing through the competition, Nemesis captured 1st seed, boasting an impressive record of 10-2. During Alliance Selection, Nemesis elected to captain Team 1640 Sa-BOT-age from Downingtown, PA and Team 223 Xtreme Heat from Wanaque, NJ.
It certainly didn't take long for the competition to heat up, though. The gaps between final scores were closing, with sometimes only a few points securing an alliance a victory. Although Nemesis moved through the quarter-finals unscathed, they sustain a loss in the semi-finals during a best two-of-three match up, with a nail biting final score of 147-146. Team 341 Miss Daisy from Wissahickon, PA presented a strong defense, shadowing Bellerophon the entire match in an attempt to curtail Nemesis' score. With victory nearly in reach, Nemesis kicked it into high gear, fighting for their spot in the finals. It was hard-won, but Nemesis triumphed in the following two matches, securing their alliance a spot in the finals.
But as the spectators in the stands cheered for Nemesis' win, the team in the pits discovered a problem. A particularly nasty collision in the previous match had damaged Bellerophon's wiring, rendering him unable to shoot. With mere minutes between matches, the team had no time to repair, and all out of timeouts, Nemesis was forced to enter the finals sans a shooter.
Bellerophon immediately adopted the role of the defensive robot, attempting to hinder the opposing alliance's offense. But with two offensive robots taking on three, the gap in alliance points grew too quickly. The other alliance took first one match then the other, and Team Nemesis and their alliance partners were named District Finalists.
Although the loss in the finals was disappointing, the entire team was proud of emerging Finalists in such a competitive event. The day wasn't over yet, however. As the judges transitioned into the Awards Ceremony, the team began to grow anxious with anticipation. Members from the Marketing and Finance teams glanced at each other, wondering if this could be it.
"Congratulations to the 2014 Lenape District Event Chairman's Award winners… Team 2590 Nemesis!"
The stands burst into applause and hugs were exchanged as the team's Chairman's Award video began to play on the big screen.
"Winning the Chairman's Award is incomparable to any other award in FIRST. When I see our team name displayed on that screen in front of the entire arena as the winner, I feel immensely proud because this award is a true confirmation of the hard work we've done together, from the build team's countless hours spent building a winning robot to the Marketing and Finance Teams' endless editing of our business plan," expressed Baljot Ranu, the Chief Business Officer.
Nemesis' next competition will be the Mid Atlantic Robotics Championships held at Lehigh University Stabler Arena from April 10th through 12th. Admission is free to all.