Tuesday, May 27, 2014
Monty Madness Introduces New Drivers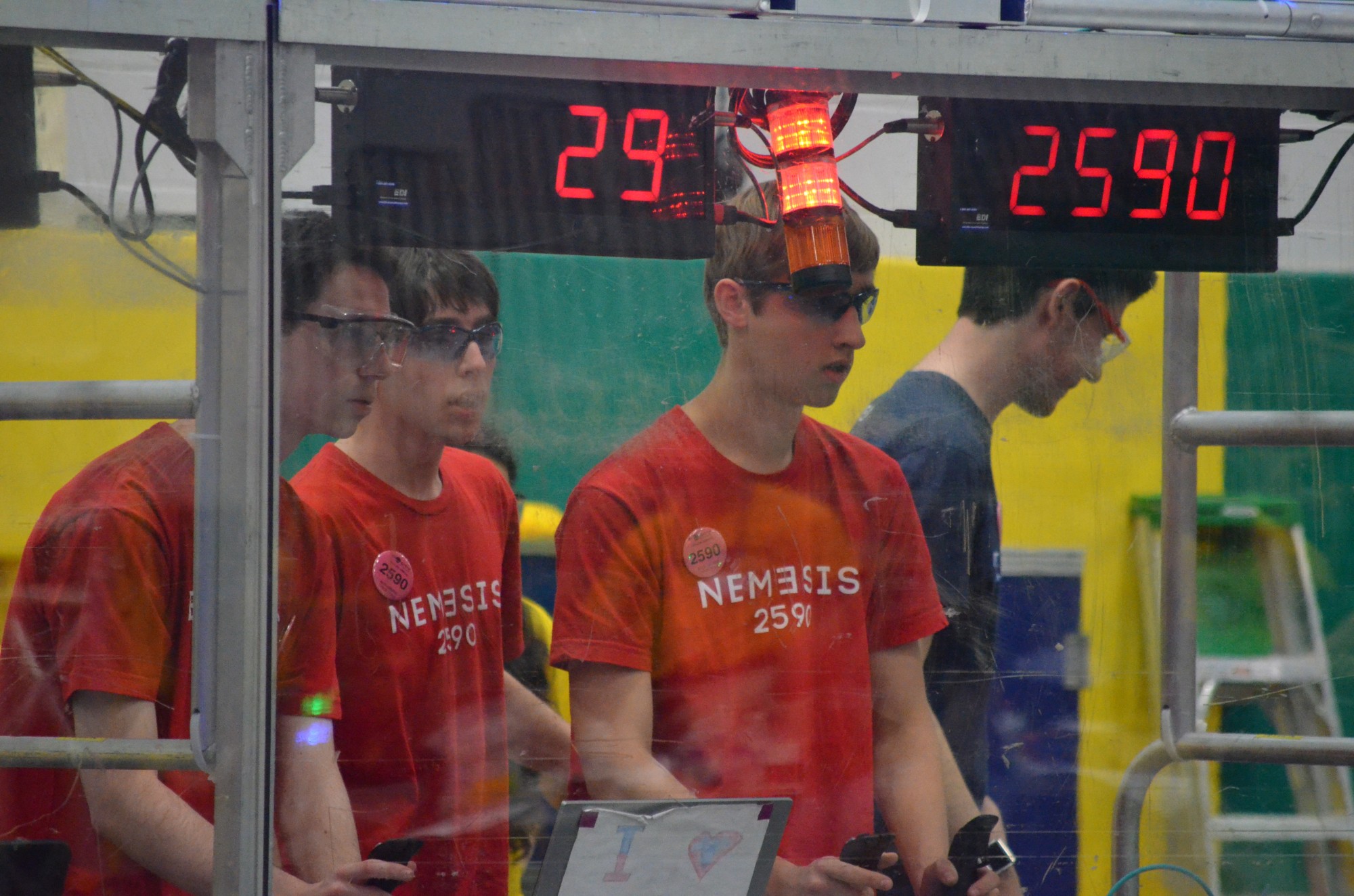 FIRST Robotics Team Nemesis 2590 arrived at Monty Madness, ready to compete with their robot Bellerophon.  Forty-two different teams all from New Jersey, Pennsylvania, New York, and Delaware gathered at Montgomery High School on Saturday, May 17, 2014.
This year's game is Aerial Assist, where robots shoot a 2 foot yoga ball into a high or low goal in order to earn points. Teams can also acquire points through assists, with a ten point bonus per assist. Monty Madness is split into two rounds of competition: The qualification rounds and the elimination rounds.  The qualification rounds determine where each team will be seeded, while the elimination rounds consist of three matches between two alliances, and the first team to win two matches wins that round.  
Bellerophon performed brilliantly in the qualification rounds, placing 1st with a magnificent 6-0 record. The success can be ascribed to Nemesis' rookie drivers, Harrison Young (junior), Arnav Vast (junior), and Christian Gavalchin (sophomore). The operators, Arnav Vast (junior) and Jim Harris (junior) adjusted the shooting angle and power of the robot.  During different matches, Sammi Young (sophomore), Karla Dimatulac (senior) and Baljot Ranu (senior) all had the opportunity to be the human player by catching the game ball and returning it to the robot.  Josh Falk (senior) did a superb job of teaching these new drivers the ropes when it came to operating a robot and he developed the game strategy. The future for Nemesis is looking bright, even with the impending absence of many executive team members next year.
            With the qualification round of the competition coming to a close, Nemesis seeded first of all 42 teams, and invited teams 341, 694, and 4954 to join the alliances; all of whom graciously accepted.
With a first-class alliance, unmatched determination, and a rambunctious fan section, Nemesis entered the elimination round with aspirations for victory.
Team 2590 started the round off well, emerging victorious from their first match. "The first elimination match was an easy win, but by the second match they learned how to play defense on us. The scoring was quickly reduced and turned into a pushing match." said sophomore driver Christian Gavalchin.  Team 2590 could not retrieve another victory and finished in the quarterfinals.
The offseason event gave the upcoming team a chance to lead the competition. One thing is for sure: The horizons of Nemesis's potential are limitless. "Next season, it will be challenging without all of the seniors except we are prepared to continue because we learned a lot from them." Arnav Vast (junior) said.