Tuesday, December 2, 2014
Nemesis Honored at the New Jersey State House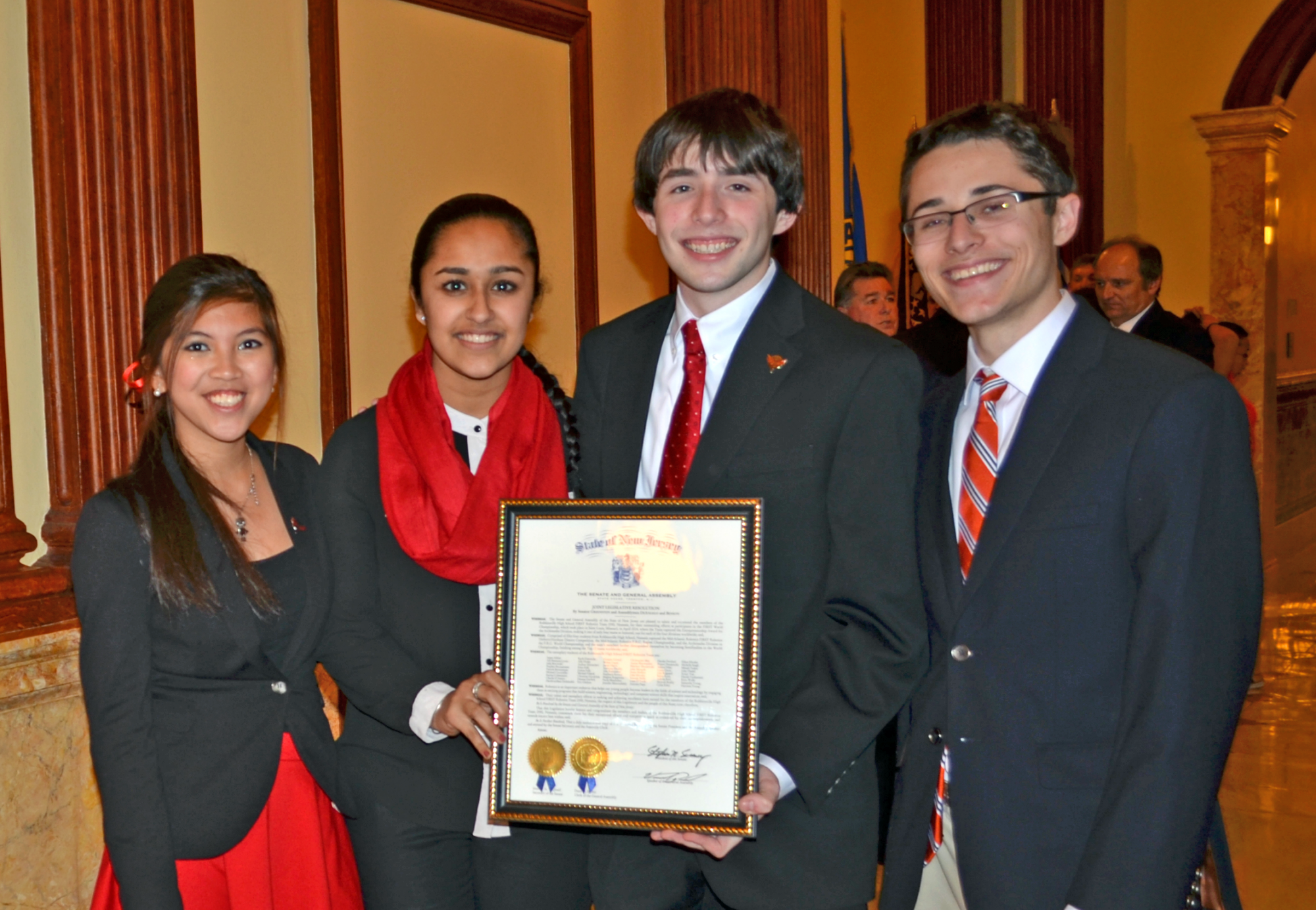 On Monday, December 1st, Robbinsville High School FIRST Robotics Team 2590 Nemesis visited the New Jersey State House in Trenton, as Senator Linda Greenstein, Assemblyman Daniel Benson, and Assemblyman Wayne DeAngelo honored the team with a Joint Legislative Resolution.
Team 2590 received recognition for its successful 2014 season concluding with a semifinalist finish at the FIRST World Championships held in St .Louis, Missouri. In addition, Nemesis was one of four teams awarded the Entrepreneurship Award at the international level to acknowledge the team's extensive business plan. Nemesis received commendation on the state senate floor for its continuous efforts in spreading the STEM message, promoting community involvement, and maintaining strong relationships with the school, students, mentors, and New Jersey state government.
Nemesis represented the fourteenth district of New Jersey alongside other Mercer County FIRST Robotics teams participating at the World Championships, including Mercury 1089 from Hightstown High School, Zero Gravity from Steinert High School, Flux Core from Nottingham High School, the Hornets from Hamilton High School West and the MidKnight Inventors from West Windsor-Plainsboro High Schools North and South.
While a group of Nemesis team members and jubilant parents spectated from the balcony of the State House, 2014 alumni Joshua Falk, Antonio Papa, and Baljot Ranu stood with mentor Joy Wolfe on the floor to accept the award on behalf of the team. Chief Executive Officer Arnav Vast stated, "I felt proud as I watched our alumni receive this award, as we were being recognized for all of our hard work and long hours we put into building the robot."
Nemesis presented both its 2014 robot Bellerophon and its NAO robot; the attentive senators eagerly listened as students recounted their experiences at St. Louis and elaborated on their success over the years. Junior Christian Gavalchin of the Nemesis build team exclaimed "it was a wonderful opportunity for the senators to interact with the team and the robot."
Grateful for the opportunity to present before the New Jersey state government and receive the Joint Legislative Resolution, Nemesis hopes to continue communicating with the government and further develop its relationships with Senator Greenstein, Assemblyman Benson, and Assemblyman DeAngelo to promote recognition of STEM.