Tuesday, April 10, 2012
Robbinsville High team Earns Honors with Student-Built Robotic Invention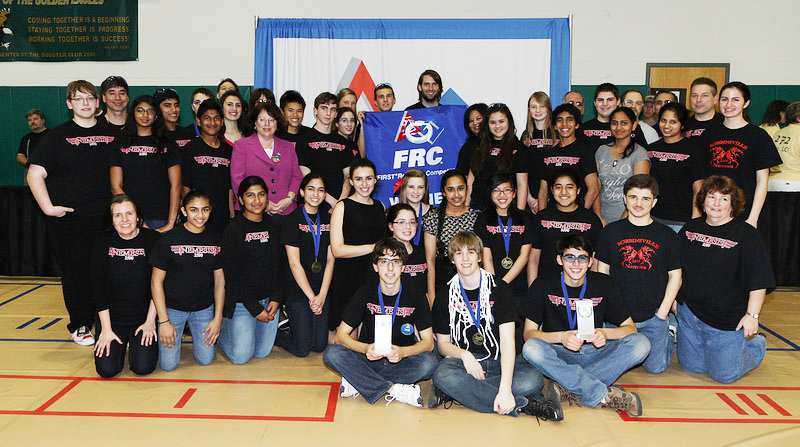 ROBBINSVILLE — The robotics team at Robbinsville High School has scored a slam dunk this year, earning a spot at an international competition later this month with a student-built robot designed to pick up and shoot basketballs.
After taking first place in a field of nearly 40 teams at a regional competition in Montreal last month, the students will travel to St. Louis later this month for the championship round of the U.S. FIRST Robotics Competition, a bout that will draw competitors from across the globe.
"It's a great team," said team adviser Joy Wolfe, a technology teacher at the high school. "They design the whole the thing from scratch."
The team, called Nemesis, also took top honors at another regional competition in Tabernacle, this one featuring schools from throughout eastern Pennsylvania, New Jersey, and Delaware, last month. It will compete again in Philadelphia later this week.
The team includes roughly 60 students who are divided into several groups each tasked with different responsibilities. From designing and building the robot to marketing, fundraising, and managing a budget of close to $60,000, the students take the lead in handling it all.
A group of mentors made up of faculty, staff, and parents help guide the team.
"We're really proud that we gave the students the chance to run their team like a technical business, so people were able to segue their experiences here as they go on to college," Wolfe said.
The annual competition presents students with a set of challenges their robots can tackle. For each task a robot successfully completes, the team gets a certain amount of points. This year, the team had to design a robot that can pick up and shoot basketballs.
After trapping the balls and picking them up via a conveyor belt, the robot operates much like a pitching machine as a set of wheels push the ball out of the machine and toward the basket.
In addition, the robot is also capable of tipping over a seesaw bridge with a pneumatic arm, another component of the competition.
While the robot can be operated via remote control, part of the competition involves programming the robot to function autonomously, a task team advisers said was entirely driven by the students.
Students said the team was a great way to take skills they've learned in the classroom and put them to use.
"I like the fact that you're actually doing things," said Eric Principato, a senior on the team who's enrolled in Princeton University next year. "In schools there's a lot of theoretical work but you don't get to do any hands-on application of your knowledge, and FIRST Robotics is all about application."
To see the article as it originally appeared in the Trenton Times, click here.