Sunday, March 2, 2008
TCHS Rolls In Robotics Contest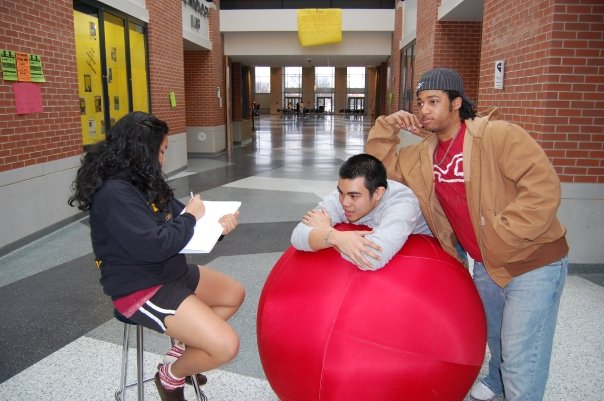 TRENTON TIMES
TRENTON -- Local teams performed strongly at this year's New Jersey Regional FIRST Robotics Competition at Sovereign Bank Arena, with Trenton Central High School taking top tournament honors and Robbinsville High School's rookie team coming in second yesterday.
Each team's win was shared with fellow alliance members, teams they cooperated with during the tournament. Trenton Central shared its Regional Competition championship with allies North Brunswick Township High School and Palisades High School of Kintnerville, Pa. Robbinsville High shared its Regional Finalist Award with Mount Olive High School and Aberdeen High School of Aberdeen, Md.
Robbinsville High also took home the Rookie All-Star and Highest Rookie Seed awards.
"We are just very thrilled," Joy Wolfe, faculty adviser for the Robbinsville team, said. "We're still finding out what these students can do as a team, and this was very unexpected. They were so excited."
"I think we were all surprised that we did so well," Rida Alvi, Robbinsville High team leader, said.
The team did not receive its first endorsement until November, when it won a $6,000 grant from NASA, just two months before kits for the New Jersey Regional competition were sent out. According to Wolfe, the team received a great deal of guidance during the fundraising process from Hightstown High School's robotics club. Hightstown High took home the Gracious Professionalism award after it was nominated by Robbinsville High.
Wolfe said involvement in the robotics team has been a life-altering experience for some students.
"We've had a lot of interest from students who leaned to the art side because this follows the same progression as an art project. This is the first time they've considered going into engineering as a career," Wolfe said.
Karisa Williams, team captain for Trenton Central, had a similar experience.
"I wasn't sure my freshman year whether I wanted to go into art or engineering. Then a friend took me to one of these competitions and I fell in love with it. Now I'm a senior and I'm looking to be an engineer," Williams said.
This year's competition involved a game called "FIRST Overdrive," in which the robots that students designed and built raced around a course attempting to place or throw giant nylon balls over an overpass to score points.
Going into the final rounds, Trenton Central's alliance had scored a regional record 114 points, while Robbinsville High had gone undefeated during two days of competition. But it was ultimately Trenton Central's alliance that stood victorious.
"I think we were able to do well because our robot was built for racing. It was fast, and it earned points that way," said Katelyn Sapio, who worked in the electronics department of the Trenton Central team.
While Trenton Central's alliance beat all other competitors at "FIRST Overdrive," Pascack Valley Regional High School was awarded the Regional Chairman's Award, the competition's most prestigious prize, having been judged as the team with the greatest commitment to spreading passion about science and technology to other schools and communities. As a result, it received a reserved spot in the national finals to be held in Atlanta.