Wednesday, April 3, 2013
Team 2590 Emerges Victorious at TCNJ, wins Chairman's Award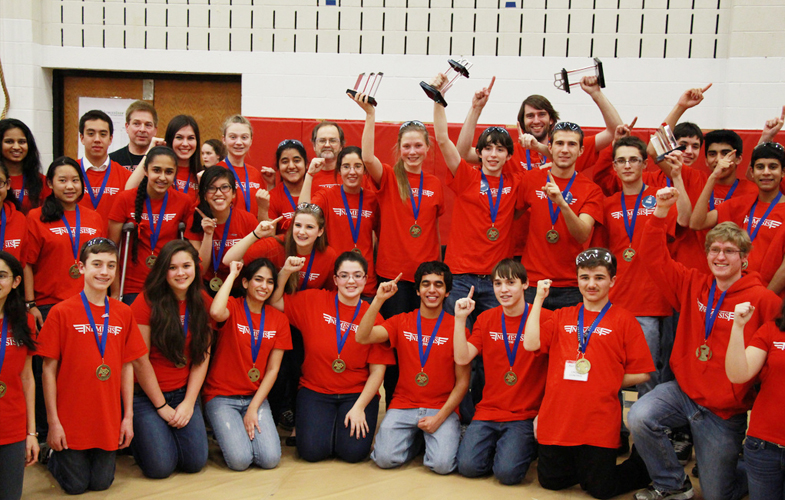 Robbinsville High School's FIRST Robotics Team 2590 continued its successful 2013 competition season at The College of New Jersey District Competition. Hot on the heels of a district win at Hatboro-Horsham, Team Nemesis clinched second place at TCNJ on March 16 and won the prestigious Chairman's Award, presented by Anisha Mohan (Marketing), Julia Borowski (Build Team) and Baljot Ranu (Finance).
RHS students designed the team's competition robot "Athena" using CAD mechanical engineering software and constructed it in the high school's technology lab in just six short weeks. Local Robbinsville businesses and sponsors custom manufactured Athena's parts as per the students' design specifications.
Excitement ran high as Team 2590 arrived at TCNJ for their second two-day district level competition of the 2013 season. As 38 other teams rolled in from New Jersey, eastern Pennsylvania, and Delaware, Nemesis prepared for a day of Frisbee-flying, robot-climbing fun.
Dance music blasted and teams cheered as the games of Ultimate Ascent began, in which robots aim to shoot plastic discs through targets of varying heights and then climb a metal pyramid. The first day of qualification matches were played between two teams of three randomly selected alliances. Athena quickly shot ahead of the competition, accurately shooting one disc per second into the highest scoring goal.
Throughout the day, supporters stopped by to cheer Nemesis on including Schools Superintendent Steve Mayer, RHS Principal Molly Avery, RHS teachers Sandy Overton and Lisa Peters. Frederick Egenolf and Diane Delandro from Nemesis' sponsors Bristol-Myers Squibb and Citibank, respectively, also joined Team 2590 in the stands, to root for Athena. State Sen. Linda Greenstein, D-Mercer, an avid team supporter, dropped by as well to see Nemesis perform firsthand.
Team 2590 finished the day as the second seeded team, thanks to the excellent remote-controlled driving by student team members Josh Falk, Antonio Papa, and Dan Gavrushenko, under the guidance of RHS teacher and mentor Scott Meredith.
Nemesis saw even more success on Day Two of the competition. The team became the highest scoring alliance of the day, accumulating a whopping 168 points in a single match while partnered with Team 103 Cybersonics from Kintnersville, Pennsylvania. When the qualification matches came to a close, Nemesis clinched second seed with a record of 10-2, one win behind Team 103, the first seeded team. Without hesitation, the Cybersonics invited Nemesis to join their alliance for elimination matches, rounding out the alliance with Team 1881 Gamma Elite from Paterson, New Jersey.
The alliance sliced through the eliminations, quickly securing their place in the finals. After a couple hard-fought matches, Nemesis emerged the finalists of the competitions, taking home second place. The biggest success, however, was yet to come.
Team members sat perched on the edge of their seats throughout the awards ceremony, waiting restlessly as more and more awards were called. Finally, it came time to announce the Chairman's Award winner. The Chairman's Award is the most prestigious award given, honoring the team that best represents a model for other teams to emulate and inspires appreciation of science, technology, and real-life rewards and opportunities in these fields. It also recognizes a team for an outstanding commitment to their community.
Nemesis waited with bated breath until, finally, "The winner of the 2013 TCNJ District Chairman's Award is. .. Team 2590!" The stands erupted into applause as team members ran to receive their medals and the team's Chairman's Video was played on a large screen. The team eagerly lined up to take a photo with their newest addition to their growing collection of banners.
"The Chairman's Award Video was definitely a labor of sleepless nights and hours of editing. So when I saw the video up on the big screen, I'm not ashamed to say there were a few tears of joy," gushed Karla Dimatulac, the main Chairman's Video editor.
Following the TCNJ competition, Nemesis ranked 8th out of 1,400 teams in an unofficial international Offensive Power Ranking (OPR) of FIRST robots.
"It's an amazing achievement, to be internationally recognized as a powerful force within the world of FIRST Robotics," said mentor Karen Young.
Team Nemesis is now preparing for the Mid Atlantic Region Championships. It will be held April 11-13 at Lehigh University's Stabler Arena. The team hopes to qualify for the World Championships in St. Louis set for April 24-27.
"We had proved to be a top team at the district events, so it will be interesting to see how we do at the MAR and World Championships," said member Jenna Mollica.
Visit the team's interactive website, frc2590.org, at any time for updates on the 2013 season.
Sponsors of Team 2590 Nemesis, whose donations help pay for the equipment needed to build the robot and the entry fees for the various competitions, include: Bristol-Myers Squibb, Lockheed Martin, BAPS Charities, CCL Label, NASA, Siemens Corp., Robbinsville Education Foundation, SRI International, Citibank, Skylink Technology, NJ Chamber of Commerce, Elite Dental, McGraw Hill, McGraw Hill Federal Credit Union, APCO, Gaum Incorporated, Evans Analytical Group, Gilbane, DesignTree, Carfaro Fencing, ShopRite, Mannino's Three, R.A.S. Process Equipment, T-Slot and the Robbinsville Board of Education.