Friday, April 29, 2016
Nemesis: Otherworldly Robotics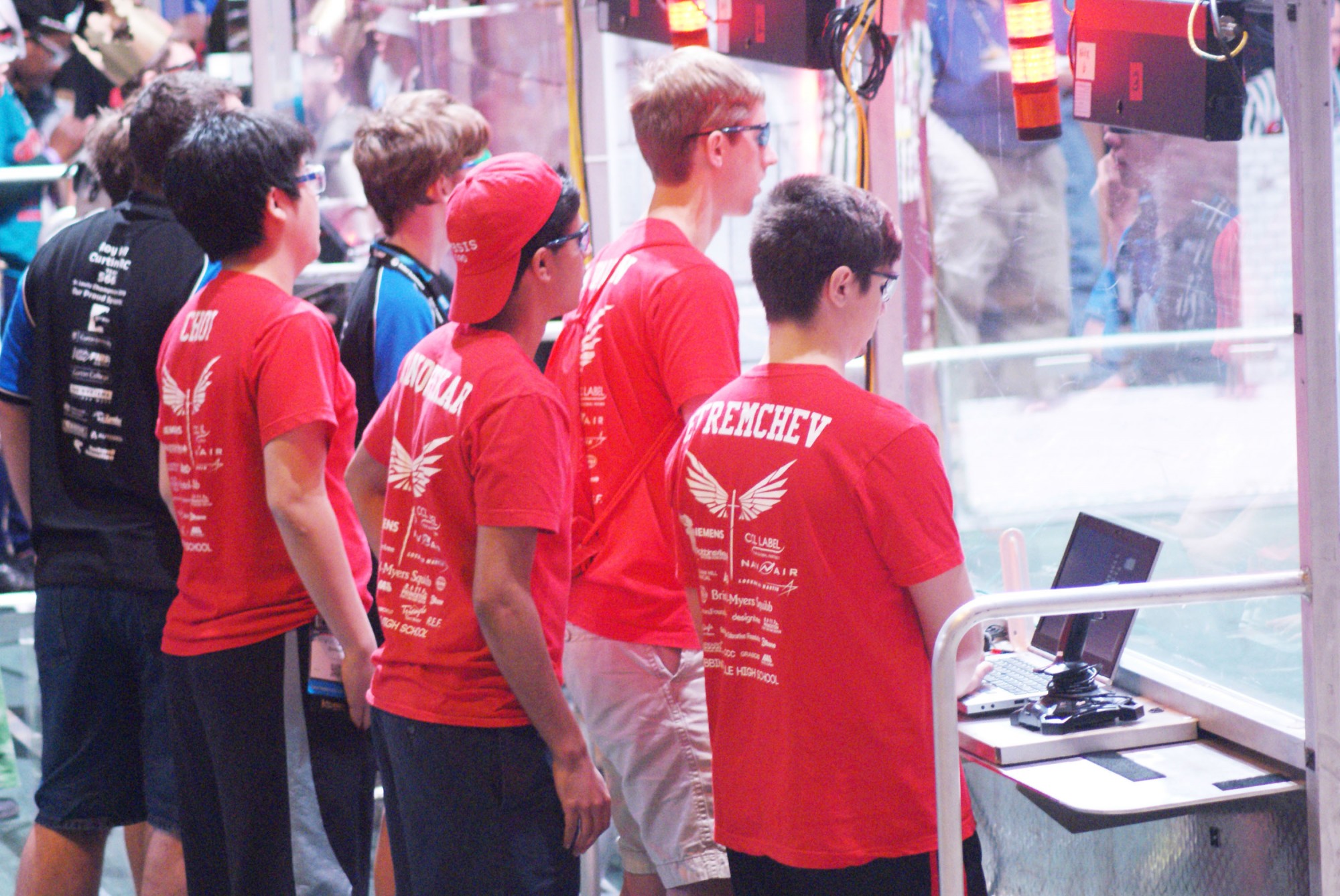 In a dimly lit conference room tucked away in the corner of a Hyatt situated near the St. Louis Arch, a tight-knit group of dedicated team members convened and heatedly debated their next move in the FIRST Robotics World Championship.
From the start, the World Championship, held in St. Louis, MO distinguishes itself from every other competition in the FRC circuit. Besides the obvious notion of its finality, World Championship holds up to its namesake by featuring a plethora of teams from the international community. Teams originate from every region of the United States, not to mention Russia, China, Turkey, Brazil, Australia, France and others.
Drive team leaders Parth Mandrekar and Christian Gavalchin, along with mentors and fellow members of Nemesis sit around a conference table, sifting through data accrued over the qualification matches. With the guidance of a mentor on call from home, the meeting goes late into the night.
Today is Friday, the second of two days comprised of near constant work and difficult challenges. With only a single day remaining, the Robbinsville Robotics Team FRC 2590 Nemesis is selecting its alliance partners for tomorrow's finalist matches. While the sheer amount of data poses its own host of difficulties, Nemesis also grapples with electing just three teams to its alliance.  
Nemesis kicked off World Championships with a rocky start, tying its first match and losing its second. Despite this and in true Nemesis fashion, the team held fast and maintained a positive outlook, as demonstrated by Parth Mandrekar, "...it's going to be a battle but I'm confident we can come out on top...we're pumped for the next few matches." The optimism paid off, with the team sitting comfortably in second place out of all teams at the end of qualification matches for the Carson Division after a considerably extensive winning spree. This series of successes can also be attributed to skilled alliance partners such as fellow MAR team FRC 41 Robo Warriors. Another MAR team, 1089 Mercury, hailing from Hightstown, NJ, also performed exceedingly well.
With qualification matches over, Nemesis faces a greater challenge in the coming days upon entering the elimination rounds. As with yesterday and today, the team will no doubt continue to maintain a thriving optimistic spirit and excitement for each new challenge the FIRST Robotics World Championship offers
Let the games end!