Sunday, December 28, 2014
Nemesis Presents Robotics in NYC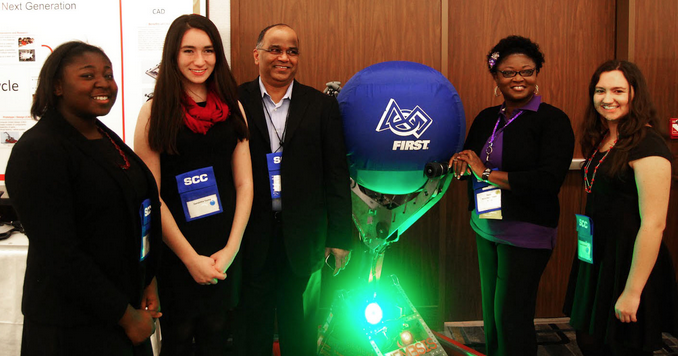 Robbinsville High School's Robotics Team 2590 Nemesis, was invited to the International Technology Showcase for the Society of Cosmetic Chemists by the New York Society of Cosmetic Chemists. The showcase was a two day event on the dates of December 18th and 19th.
Our purpose at the the International Technology Showcase for the Society of Cosmetic Chemists was not immediately apparent to most in attendance. Once attendants gained an understanding of who we are, they quickly asked, "But how does this relate to chemistry?" Over the two-day period at the conference, we reiterated how robots are the future of manufacturing, a key step in the sale of cosmetic products. Most importantly, we explained how the fundamental skills we learn in Nemesis are essential in any career path, even the field of cosmetic chemistry.  Each subteam on Nemesis must practice essential problem-solving skills and practice the design cycle, whether designing an advertising video or a successful robot.
Attendants were amazed that a group of high schoolers had built such a complicated robot like Bellerophon--let alone, in a short six week time frame.  Since the showcase was an international event, our NAO robot was especially popular being a major character on French television. The European attendants especially enjoyed the NAO robot's special greeting for the showcase. the NAO robot also performed a tai chi routine and macarena dance. The appeal of the NAO robot made some consider its potential as an advertising tool in the cosmetic industry.
After long days of presenting, Nemesis did some winter sightseeing around New York City, including visits to Times Square and the iconic tree in Rockefeller Center.
The showcase provided the opportunity to share our work while also gaining an understanding of the latest cosmetic technology. Our chemistry enthusiasts obtained valuable knowledge of the future of the cosmetic field, giving them an edge when pursuing a chemistry-related career in the future.